Takeaways
Zoom studio visits are a wonderful way to connect with curators, gallerists, collectors, and artists outside of your area
A Zoom studio visit has a similar flow regarding how you can talk about your work. The major difference is how you present it.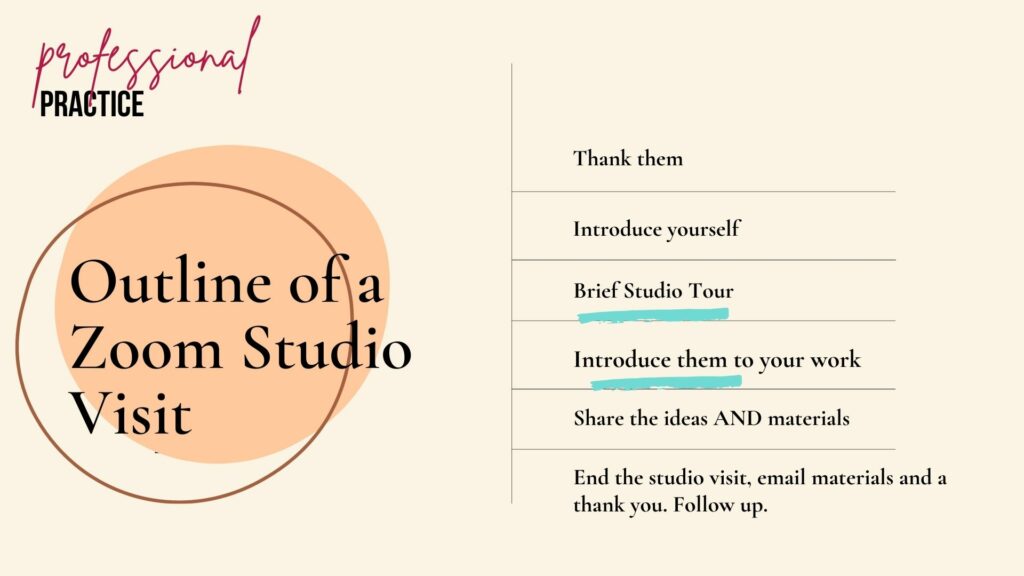 THREE OPTIONS YOU CAN USE TO SHOW WORK
OPT 1: The Work Moves
Hang the work on the wall and have your computer or phone on a moveable cart or tripod.
PRO:
Shows scale of work, allows the person to concentrate on the work without distraction
CON:
Can be time consuming to set up.
OPT 2: The Camera Moves
Walk around with the phone to show work.
PRO:
Easy, gives more of a view of your studio, may open up conversation
CON:
Can be shaking and distracting, feel overwhelming if not done properly
OPT 3: Slide Show
Slide show
PRO:
Clean images, no moving around
CON:
Need tech understanding, doesn't show scale and feels like an artist talk.
Remember to choose a method that works for you and your work. For example, installation work may be best shared via a slideshow OR if you have it currently up in a walk-through.
A reminder that in a Zoom studio visit, you "lead" the conversation because you are running what is shown on the screen. Do not jump from image to image quickly. Give them time to digest the work. Also, give them time for questions or comments.
OPT 1 SET UP