Examples & Templates
Below we review the main points covered in the video. At the bottom is a spreadsheet you can download to help organize your expenses.
WRITE-OFFS
Consider what you can write off. Below is a list of common write-offs for artists.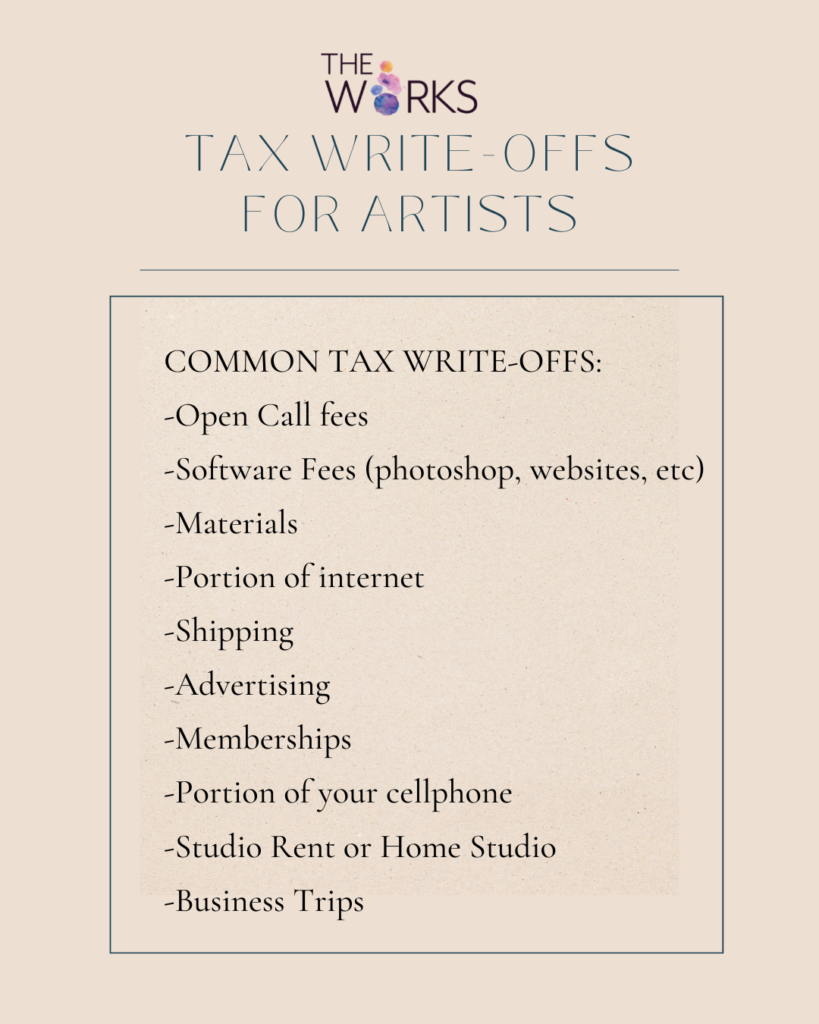 TAX FORM QUICK REVIEW
Here are two forms you may commonly run into. The Schedule C you will submit if you are a business, and the 1099 you will either receive from people who have paid you or you will send out to people whom you have paid.
Schedule C: Use Schedule C (Form 1040) to report income or loss from a business you operated or a profession you practiced as a sole proprietor. An activity qualifies as a business if:
Your primary purpose for engaging in the activity is for income or profit.
You are involved in the activity with continuity and regularity.
1099 Form: The IRS 1099 Form is a collection of tax forms documenting different types of payments made by an individual or a business that typically isn't your employer. The payer fills out the form with the appropriate details and sends copies to you and the IRS, reporting payments made during the tax year.
TAX WRITE OFF SPREADSHEET DOWNLOAD
This sheet can be used to look at your expenses and where they will go in your Schedule C.
https://docs.google.com/spreadsheets/d/1kqyMwgn_abJIiqSfuXnQ6TY2EbplysJLYrmuzJfcPTI/copy
There are three tabs in the expense sheet.
All Business Expenses: You can add the merchant/company, expense amount and where it will fall on your schedule c (There is a drop-down to help you categorize)
Schedule C Expenses: Breaks down the categories and where they are found on the schedule c
Percentage Uses: Easily calculate your internet, phone, and other expenses that are split between business and personal.